Some of the oldest games, dating back over 3,500 years, are in a group called games of alignment. Tic-tac-toe is one of the most popular of these games in the United States, but in Ghana the children play Achi. In this project, make a felt game board for Achi.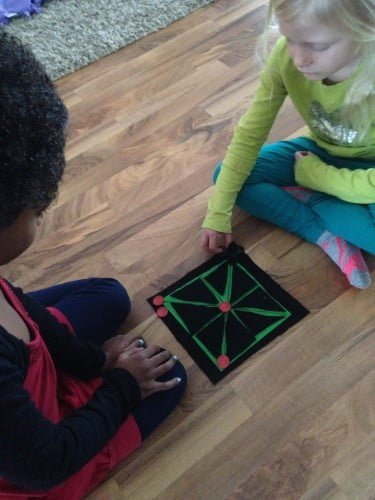 Supply list:
Two different colors of felt
Hot glue gun
Scissors
Checker pieces or rocks
Directions:
Step 1.Cut out a 10″ square from the darker felt.
Step 2. Next, cut a 8″ square from the lighter felt.
Step 3. Hot glue the felt pieces together.
Step 4. Then cut a 6″ square from the darker felt.
Step 5. Draw 4 lines on the 8″ piece of felt, two lines horizontal and vertical, then two lines diagonally.
Step 6. Cut the 6″ square into four smaller squares and those squares into 8 triangles.
Step 7. Glue the triangles in between the lines on the 8″ square with the hot glue gun.
Step 8. Wait for the glue to dry and then use checker pieces or rocks to play! Our daughters from Ethiopia loved playing this game. Anything related to Africa is a hit!
How to play Achi:
Achi is a two-player game. Each player needs four game pieces in a color that contrasts with the other player's game pieces. Two different dried beans, like red kidney and white Great Northern, work well; alternatively, use pennies and dimes. The object of the game is to be the first player to align three pieces in a row.
1. Draw lots to see who goes first.
2. Players take turns putting playing pieces on any line intersection.
3. The game moves into its second stage after all pieces have been played and no one has three in a row. Players now take turns moving one of their pieces along a line to an empty spot. No jumping allowed.
4. The first player to get three in a row wins. The row can be horizontal, vertical, or diagonal.
If you're not already a Green Kid Crafts subscriber, don't wait another day to join! Single-purchase boxes available, too!
From $16.95 / month! Monthly boxes come with 3-4 award winning Creativity and STEM Science Kits (science, technology, engineering, and math) designed by experts around national standards to build confidence, flex creativity, and make kids smarter. All materials and instructions included, along with some fun extras! Each Discovery Box is created around an exciting new theme each month (think Safari Science, Nocturnal Animals, Backyard Science, Ocean, and Mad Scientist). You can cancel anytime. Join Green Kid now!