Create a Sundial Craft
Are you aware of how the sun moves across the sky every day? Making this simple sundial inspired in us all sorts of scientific observations!
Supplies:
Paper plate
Straw
Crayons
Pushpins
Pencil
Step 1: Put the number "12" on the top of the paper plate with a crayon. Proceed with the rest of the numbers on a clock.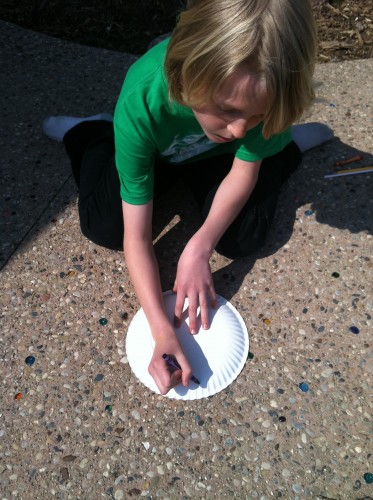 Step 2: Punch a hole in the center of the plate. Then insert the straw.
Step 3: Close to noon put the sundial in the sun and tack it down with push pins. The straw should cast a shadow pointing to the 12.
Check throughout the day and explain to the kids how the sun helps us know the time.
For more DIY and eco-friendly projects, please check out our Pinterest page!
If you're not already a Green Kid Crafts subscriber, don't wait another day to join!
Every month a different box! For kids ages 2-10+
With 4-6 activities each, our Boxes pack a punch!
What's different about Green Kid Crafts?
4-6 bite-sized learning activities in every box
Founded by a Scientist, each box has substance to it.
Mom-founded, mom-run, each box kitted by hand in the USA.
Green and rooted in sustainability, we plant a tree for each order.