To redeem your voucher, please select your subscription below.
You will be asked for your voucher code on the checkout page.
Green Kid Starter Pack
(3 months)
Free with voucher
$3.95/month shipping
An $89.95 value
Get 3 boxes delivered monthly starting with our popular Outer Space box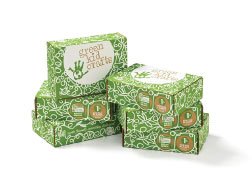 Limited Time Upgrade: Green Kid Deluxe Pack
(6 months)
Voucher + $60
Free Shipping!
A $179.70 value

Get 6 boxes delivered monthly starting with our popular Outer Space box
What to Expect Each Month
Get Discovery Boxes delivered monthly starting with our award-winning Food Adventures Discovery Box
3-4 award winning Creativity Kids per box. designed by experts to build confidence, flex creativity and engage kids with the world around them
All materials and instructions included, along with some fun extras!
An exciting new theme each month – think Outer Space, Feathered Friends, Backyard Science, Ocean, and Dinosaurs
Included free for subscribers (a $5.95 monthly value): Green Kid! Activity Guide – a 20+ page collection of additional activities, reading lists, games, puzzles, and more each month, all centered about the monthly theme!
Renews automatically, cancel anytime