Summer Science: Fry an Egg on the Sidewalk
"It's so hot we could fry an egg on the sidewalk!" I know I've heard this growing up but guess what? I've never tried to fry an egg on the sidewalk on a hot summer day. Not only have I not tried this summer science experiment, I haven't seen anyone else try it either. Which got me thinking…can you really fry an egg on a sidewalk with only the heat from the sun?
I asked our science project contributor to test this idea out with her kids, and what they discovered is pretty cool. An egg can actually be fried on a sidewalk on a hot summer day! This summer science experiment for kids makes a great prediction, observation and documentation project. Making a prediction, observing an experiment, and documenting your findings are key elements in the scientific method.
Supplies:
Egg
Pot/Pan
Aluminum foil
How to Fry an Egg on the Sidewalk
Choose a VERY hot a sunny day for this project
Crack your egg in your pot
Cover it with aluminum foil to increase the heat inside the pot
Place pot on the sidewalk with the most sun exposure possible
Fry that egg!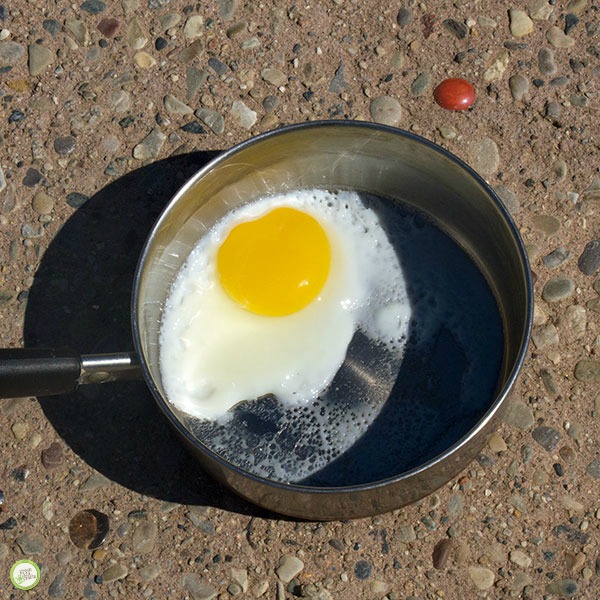 Now what? It's important to throw the egg away because it won't be cooked all the way through. Kids might think it's okay to eat the egg so make sure this is a supervised summer science activity that can be tossed in the trash afterwards.
Start your Green Kid Crafts Subscription Today!
Our subscription boxes for kids pack a lot of fun and learning into convenient packages. Developed by teachers, crafty moms and STEAM experts (science, technology, engineering, arts and mathematics) to support key developmental skills for kids ages 3-10, each box celebrates creativity with craft projects and activates thinking, questioning, inquiring, and original creation as we guide children through fun science experiments. Each box contains 4-8 Creativity and STEAM Kits, extension activities, and a 20+ page themed Green Kid Activity Guide.
What are you waiting for? Don't be the last to try what we've prepared for your kids at Green Kids Craft!