Choose the Perfect Plan
Discovery boxes for kids ages 5-10+ or Junior boxes for kids ages 3-5. Select the plan that works your family
Check the Mail
Monthly themed boxes arrive filled with 4-6 Science and Art projects plus a 12-page magazine
Create and Learn
Kids create, make and discover while sparking a lifelong love of learning!
"This is the best kid craft box around. Love it and so does my child. High quality and the NUMBER of activities! The magazine is great too. So much thought goes into these projects."
– Nicole C.
Great for little hands and curious minds
4-6 activities per box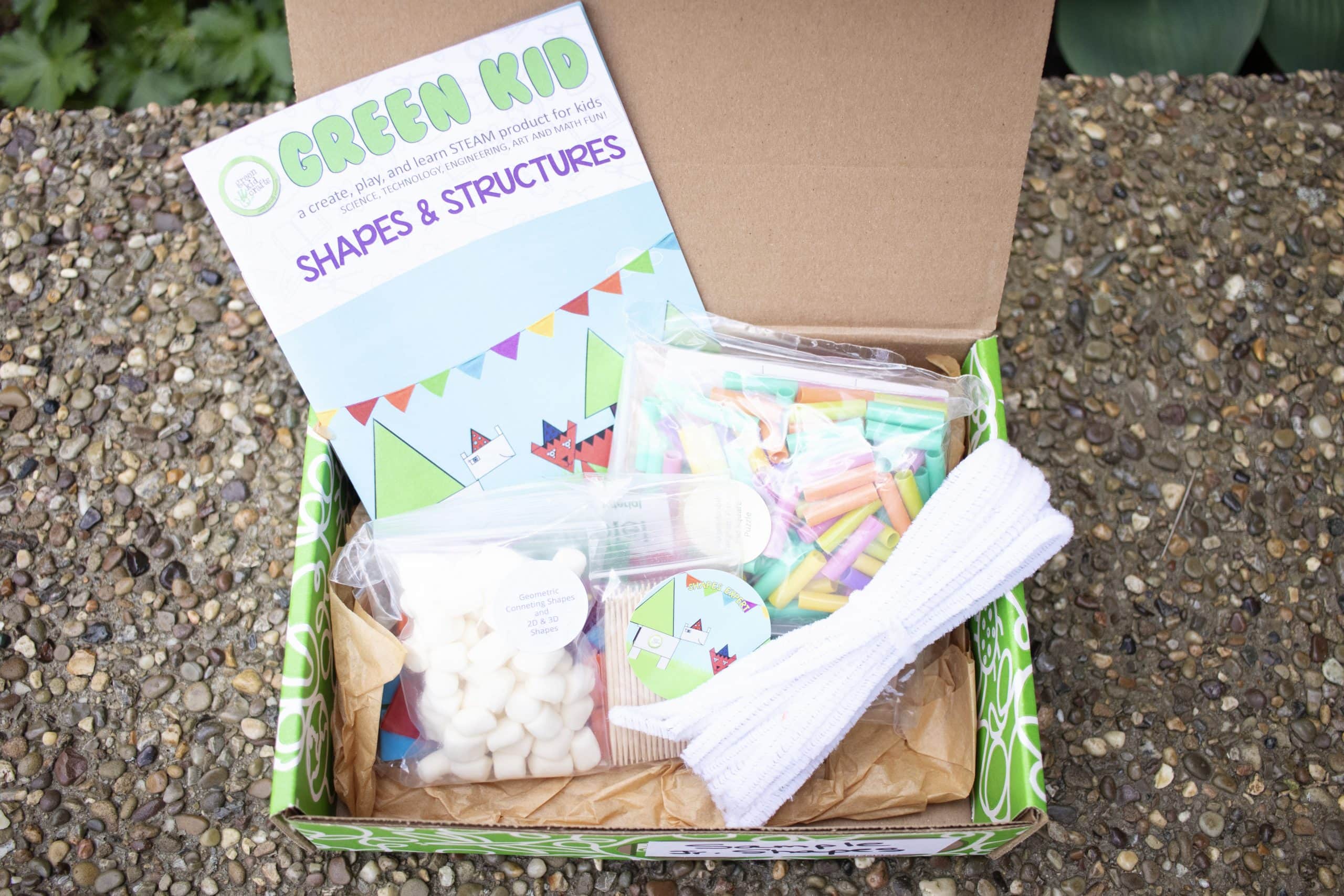 "I signed up my daughter for this box because she loves science and art. It did not disappoint! The experiments and projects are well thought out and the guide is super handy. As a science teacher, I approve this box!"
– Jenna H.
What's Special About Green Kid Crafts?
Found by a Mom With a Mission
Penny Bauder wanted to spend time on creative and meaningful activities with her kids – but so many crafts seemed so wasteful and time-consuming to organize.
Boxed & Kitted With Love in San Diego, California
Each Green Kid Crafts box contains 4-6 activities and are carefully kitted by hand by our warehouse team in Sunny San Diego
Sustainable by Design
Green Kid Crafts is a green and sustainable business, drawing from Penny's experiences as an environmental scientist, pictured here researching in the Tongass National Forest in Alaska.

The Reviews are in!
Kids and their families love Green Kid Crafts!
Shapes and Structures Box
"We are so excited to receive our first green kid craft box! I love that it's all recycled products & there's multiple crafts! My son loved playing with the geometric shape! I especially love that it gives a great description how I can help my child use & learn with each craft!"
Teagan S.
Solar System Box
"My 5 year old son loves these boxes! The space one was a big hit because we inherited a very nice telescope from my FIL when he passed so adding more space learning was great!"
Lisa B.
Feathered Friends Box
"I sent this to my nephew – the pictures he sent back were super cute! This makes a great gift."
Monique W.
Rainforest Science Box
"Thanks Uncle Rico! I'm becoming a rainforest expert this week!"
@bt.smyth
4-6 educator designed STEAM projects in every box
Award-winning hands-on activities loved by families near and far!
12-page magazine supports learning and connection
Now with extra learning opportunities delivered to your inbox!
Get It
Subscribe now!
Subscribe and Save!
Compared to non-subscriber shop prices $34.95/box
Free shipping in the U.S!
Gift subscriptions do not auto-renew
Cancel renewals anytime
Select a plan
Green Kid Crafts is empowering the next generation of environmental leaders using creative, nature-based STEAM activities. Founded by mother and environmental scientist Penny Bauder in 2010, Green Kid Crafts has sold over 1.5 million kids subscription boxes specially designed to help children exercise creativity, develop a love of discovery, and learn about the world around them.