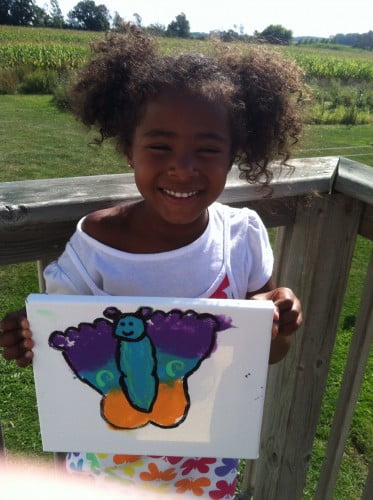 What a great idea! Feet that turn into butterfly artwork!
Supplies: 1 canvas, paints of your choosing, paint brush, marker
Step 1: Paint the bottom of your child's feet with the paint you have selected
Step 2: Have your child press their painted left foot onto the RIGHT center of the canvas , this will be one wing of the butterfly
Step 3: Repeat step 2, with the right foot and LEFT center, leaving a couple of inches of space between the wings to paint the body of the butterfly
Step 4: Trace the foot imprint to clearly mark the wings with the marker
Step 5: Paint a head and butterfly body in-between the two wings, and fill in any paint needed on the wings.
Done! You now have the perfect grandparent gift for the holidays.
If you're not already a Green Kid Crafts subscriber, don't wait another day to join!
From $16.95 / month! Monthly boxes come with 3-4 award winning Creativity and STEM Science Kits (science, technology, engineering, and math) designed by experts around national standards to build confidence, flex creativity, and make kids smarter. All materials and instructions included, along with some fun extras! Each Discovery Box is created around an exciting new theme each month (think Outer Space, Nocturnal Animals, Backyard Science, Ocean, and Mad Scientist). You can cancel anytime. Join Green Kid now!