Fall Sensory Slime
Glitter sensory slime for fall! Today we're mixing together ingredients that turn into a pliable substance for sensory play. The best thing about this activity is that it takes very little time but provides an afternoon of play for your child. We use slime for rainy day play, birthday party activities, and as a playdate pastime. Check out our fall slime recipe below.
Ingredients to make Fall Slime
1/2 Tablespoon of baking soda
6oz of Clear glue (or white glue)
1 1/2 tablespoon contact solution
Glitter- I used orange and red
Directions

Pour glue in bowl

Mix in glitter

Put in baking soda and mix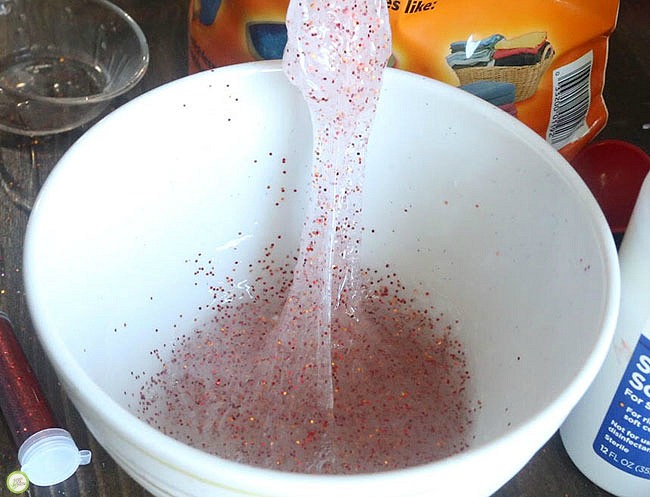 Then add contact solution and mix

Stir until ball forms and then knead with hands.
My kids and their friends love playing with slime but it can get messy. Here are some tips for keeping your slime making zone (almost) mess free:
Store all slime ingredients in a plastic tub
Use inexpensive bowls or plastic cups and wooden craft sticks to mix slime
Store slime in sealed plastic containers or Ziploc bags in a plastic bin.
Do not make or play with slime in areas where slime ingredients may spill on carpet or upholstery.
Let kids' imaginations run wild with these fun and educational science projects! We have created a Kitchen Science Discovery Box that will inspire your pint-sized scientist with three creative STEM science experiments. Our Kitchen Science activities for kids demonstrate how the addition of a few special ingredients can make everyday household materials extra-exciting. The Discovery Box includes supplies and instructions for three amazing projects: Homemade Soap! Fizzy Bath Bombs! and a Volcano!  Through these projects, kiddos will (safely) learn about chemical reactions by watching baking soda react to citric acid (Fizzy Bath Bombs) and vinegar (Volcano). They'll also have a blast at bath time too!