Teacher appreciation week is next week, and it's not too early to start thinking about how to thank your teachers as the school year draws to a close. For both occasions, here are simple kid-friendly gift ideas to say thank you to all those teachers who make a difference.
Tea Wreaths
We might make one of these colorful tea wreaths for ourselves! This colorful gift will remind teachers how special they are every time they pluck a tea bag from the wreath. To make, cut a circle out of a paper plate and decorate it with paints, markers, fabric, or scrap paper. Take wooden clothespins (you can decorate these, too!) and use them to clip tea bags of different colors around the paper plate until the wreath is full. Punch a hole in the top and thread a ribbon through the hole for hanger. What a great open-ended craft!
Chalkboard Painted Pots
We fell in love with these chalkboard painted pots.  Not only are chalkboard painted pots easy to make, but your kids will love making them for their favorite teacher. Plus, the teacher will be thrilled it's not an another apple! This is one of those great gifts that keep on giving and will be sure to put a smile on the teacher's face whenever she uses it. You can find detailed instructions over at One Hundred Dollars a Month.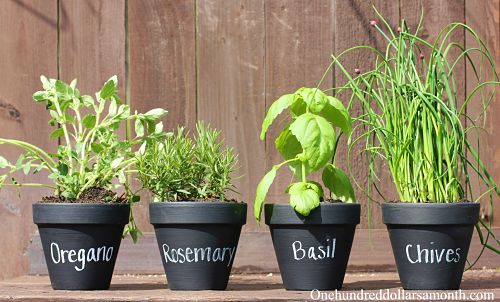 Monogram Mugs or Decorated Pencil Cups
These projects require a lot of adult supervision due to the materials involved and the complexity of the project but can be a lot of fun and make a great impression.
Decorating a pencil cup is another great idea and decoupage gives lots of options. Have kids use different colors of tissue paper to play with color mixing. We've also seen some great ideas using scrap fabric (including lace) and simple Sharpie markers. DesignMom has a great tutorial for creating monogram mugs using a porcelain pen. Fill these with marshmallows, hot chocolate mix, or a gift card to a coffee shop.
Monogram Wall Decor
Create a personalized wall decoration using shadow box frames and broken bits of crayons or buttons.
How are your children thanking their teachers? Share your ideas in the comments!
If you're not already a Green Kid Crafts subscriber, don't wait another day to join!
Every month a different box! For kids ages 3-10+
With 4-6 activities each, our Boxes pack a punch!
What's different about Green Kid Crafts?
4-6 bite-sized learning activities in every box
Founded by a Scientist, each box has substance to it.
Mom-founded, mom-run, each box kitted by hand in the USA.
Green and rooted in sustainability, we plant a tree for each order.